Vibration isolating pads  VIBRASTOL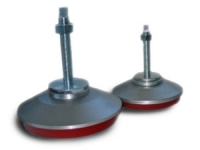 Vibration isolating pads are designed so that machines, mechanical devices and equipment could be positioned freely. They are applied for shock absorption and damping. Excellent stability of properties and long-life durability were accomplished by use of polyurethane elastomers. The profile suction of vibroisolation pad's foot simplifies adhesion to the ground.
Elastomer vibration isolating pads  VIBRASTOL D


Elastomer vibration isolation pads are designed for shock absorption and damping of construction elements, machinery components, mechanical devices and equipment.
Car parts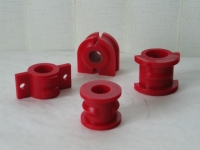 Elastic fastenings of the suspension system's stabilizer bar made of ESTOLAN elastomers are produced for more than 100 types of vehicles.
Wheels, rollers, shafts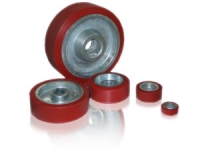 Wheels and rolls are produced of maximum diameter 350 m. Covered rollers for technical equipment are produced of maximum length     1200 mm.
Rods, tubes, plates, elastomer springs, and technical articles can be also produced on individual order.
Rods, tubes and plates are produced in the elastomer hardness from 55 to 90 ° Sh A (maximum dimension of the plate: 670x500x30 mm).